Pointe-Claire resident Roberta Roberts displays her collection of old-fashioned blow-mold decorations on her veranda after serendipitously discovering a life-size singing Santa Claus.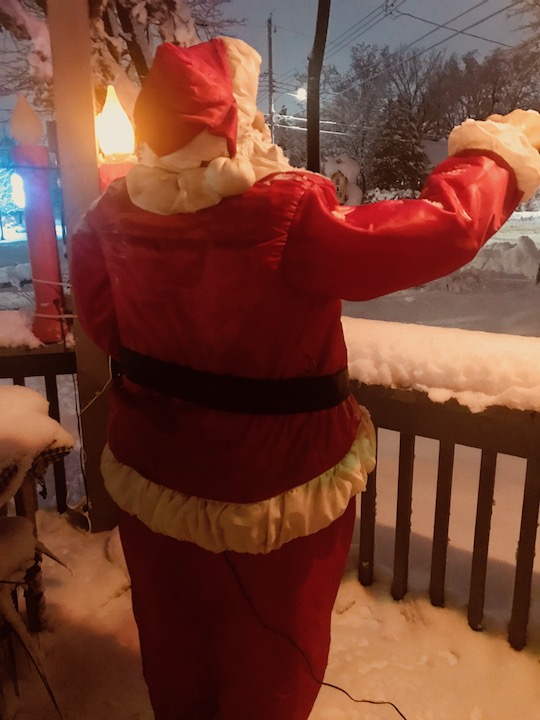 ---
It started, as collections do, with one fortuitous find: a six-foot-tall talking Santa Claus mannequin, discarded at the curb. But it wouldn't end there. The collection of Christmas "blow molds," as they're called, grew into a neighbourhood phenomenon that now attracts a lot of attention.
Pointe-Claire resident Roberta Roberts was visiting family in Maine during the summer of 2019 when she happened upon the life-size treasure. "I enjoy going to Rotary Club auctions when I'm in Maine," she recalled. "That summer, I missed the auction, but drove by the location where it had been held. That's where I saw it. Stuff had been dumped by the side of the road for garbage pick-up."
There was a box that appeared to hold a Santa Claus head. "My daughter and I figured we could use it as a Hallowe'en decoration," Ms. Roberts said.
But she discovered that the box contained more than just a head; it held an entire Santa Claus mannequin. Moreover, it was a mechanical Santa, complete with a voice box radio at the back of its head. "I couldn't understand why it hadn't been claimed," she said. "It was so wonderful."
On the way home, Ms. Roberts began to feel anxious as she got closer to customs at the U.S.-Canada border. The life-size mannequin was sitting in the passenger seat of her car. "I opened my car window at the border and the customs agent said: 'What do we have here?' They let us pass through and I took Santa home to the surprise of my husband."
Another surprise awaited when, after finding a plug on the mannequin, Ms. Roberts plugged it in. "He started saying: 'Ho, ho, ho. Merry Christmas,' " she said.
A few months later, the world ground to a halt during the Covid pandemic. One day, while walking in her neighbourhood, Ms. Roberts spied a raggedy old snowman figure at the roadside. "I picked him up and took him home," she said.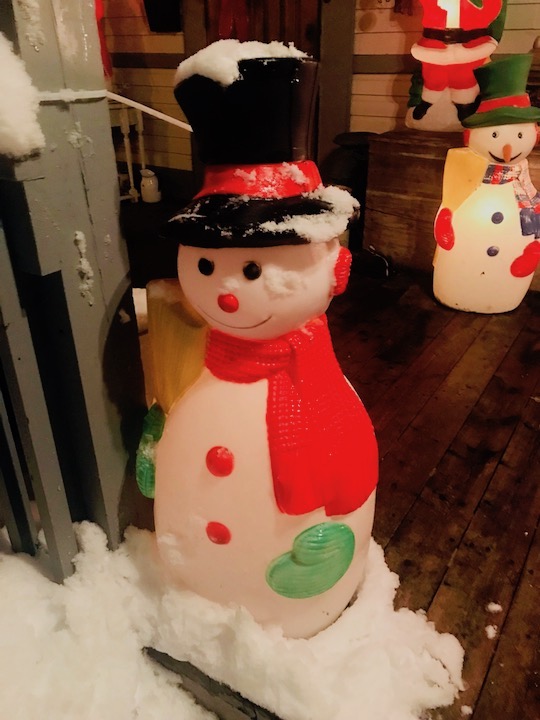 And then the collection began in earnest. Her daughter found a decorative candle mold on the roadside. "I also found a Santa Claus with Dalmatians and another one with a chicken in his bag."
Friends and family members took note and began salvaging other holiday blow molds and giving them to Ms. Roberts. Many were old, well-used and damaged. Their lights were dysfunctional or they had holes.
"I wasn't sure what to do with them all," she said. But by Christmas 2021, there were enough to create a spectacular display. So their new owner set all of these decorative items out on her veranda in Valois to the delight of her neighbours and the admiration of the City of Pointe-Claire, which awarded her a best-decorated-home award.
Since then, the collection of vintage figures has doubled, and Ms. Roberts has learned (thanks to YouTube videos) how to repair them. "I've had to repair many of them," she said. "I couldn't believe how many videos there are on how to repair a blow mold. Sometimes, my family resented the fact that the blow molds occupied dining room chairs while I was repairing them."
Blow-molded Christmas decorations date to the 1960s, although the manufacturing process that molds the plastic dates back more than a century. Ms. Roberts has learned that white plastic milk containers softened with a hair dryer can be used to repair damaged decorations along with epoxy glues and paint. The 40 or so decorations she has accrued over the past three years are considered vintage, the oldest dating to about 1970.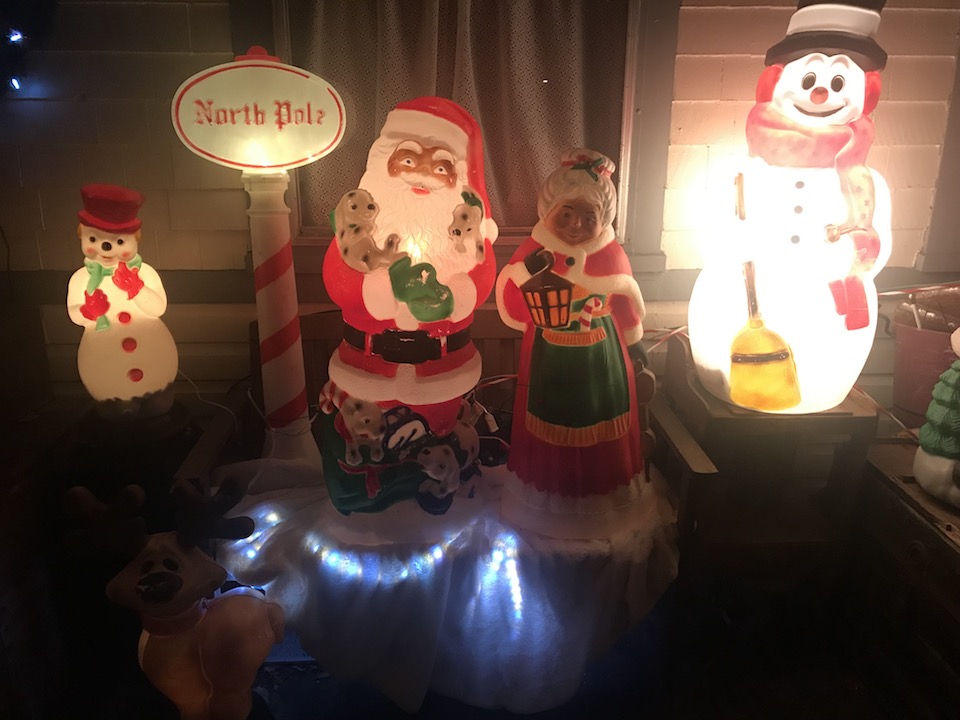 ---
It takes about three weeks to set them all up on her veranda, ensuring that the lights within the molds are functional. And she is delightfully astonished at the positive feedback she's received from neighbours. "People walk past and call this the Christmas house," Ms. Roberts says.
Curating these old-fashioned ornaments "has pulled me out of the Covid funk," she adds. "I love the fact that these items have a history." And had it not been for the fact that she has lovingly salvaged them, they would have ended their days in landfill sites.
"These things were beautiful when they were bought way back then," Ms. Roberts says. "I'm giving them a second life, a sanctuary."
Roberta Roberts's elaborate display of vintage blow molds can be viewed at the corner of Queen and Mount Pleasant Avenues in the Valois neighbourhood of Pointe-Claire. Check out our Facebook page (www.facebook.com/WestIslandHomeandLife) to view a video of her vintage talking Santa Claus mannequin, the guy who kick-started the whole collection.