As the Lakeshore Light Opera Society prepares for its production of The Gondoliers, costumer Daveen Garland has been busy designing, stitching and fitting the cast's garments
By STEPHANIE WHITTAKER — Editor, West Island Home & Life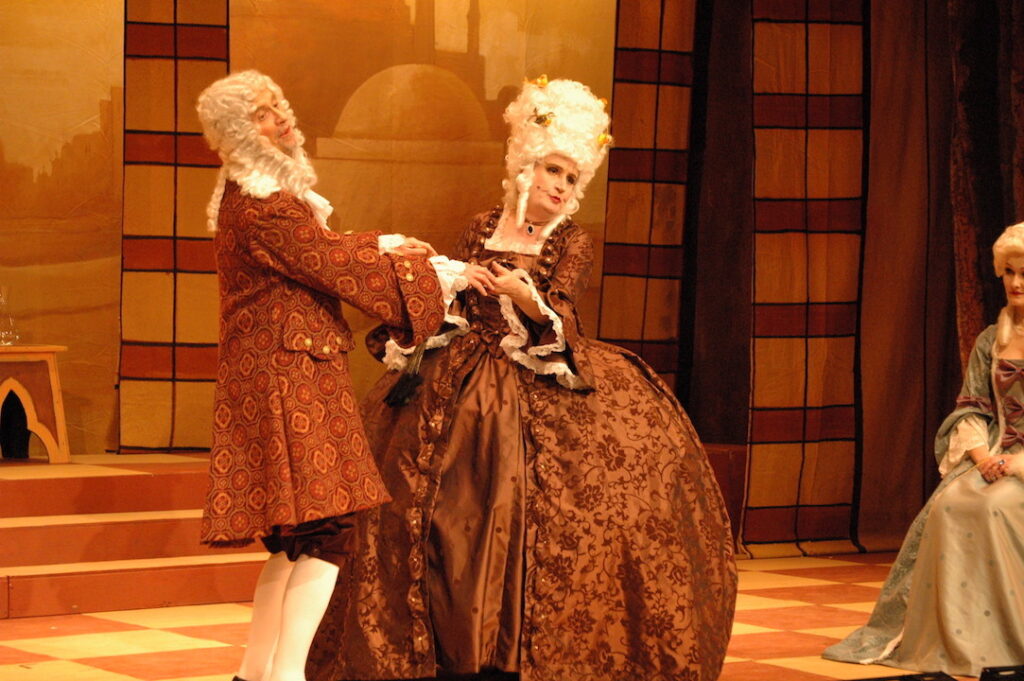 ---
When the lights come up on Lakeshore Light Opera's production of The Gondoliers, the audience is sure to be wowed by the musical and acting talent on stage. This story, however, is about the talent behind the scenes, the hands that patiently spend hours crafting spectacular period costumes.
Since early January, Beaconsfield resident Daveen Garland has been cutting and stitching costumes for the production, which debuts on March 10. In fact, her work has taken over two spare bedrooms in her house along with the dining room, where the table is covered in wigs. "I especially like making the big, flashy dresses," Ms. Garland said in a recent interview with West Island Home & Life.
That's "flashy" in the 18th century sense: bodices, crinolines, brocade, lace and gold buttons. The Gondoliers, written by Arthur Sullivan and W.S. Gilbert, was first performed in London in 1889. A comedic satire, the operetta takes place in Venice at an unspecified time (probably late 18th century), and features a plot that's rife with mistaken identities, changelings and a sardonic portrayal of aristocracy and royalty.
Lakeshore Light Opera, a non-professional company founded in 1955, stages its annual Gilbert and Sullivan operetta in the early spring, cycling through the various works of the 19th century British duo. All profits from the shows are donated to the Lakeshore General Hospital Foundation. "In the past 15 years, we've donated more than $100,000 to the foundation," Ms. Garland says.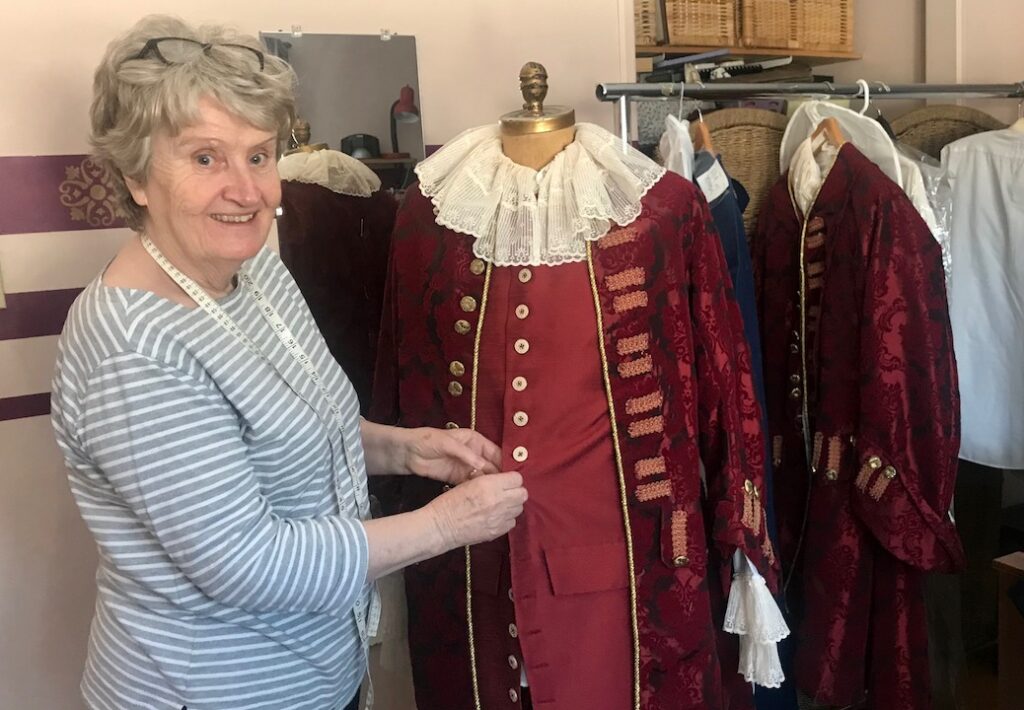 ---
She and her husband Peter joined LLO (as members call it) in the mid-1980s shortly after they'd emigrated from England. "We had both sung in church choirs in England and I was a music teacher," Ms. Garland said. "My husband is a great tenor and while I don't sing on stage anymore, I am a mezzo soprano. Our first show with LLO was HMS Pinafore in 1985. We've both done principal roles."
Becoming the society's head costumer came later. "I've always sewn and knitted, and bought myself a sewing machine as soon as we arrived in Canada. Sewing was something we did in England as a way of making garments inexpensively," she says. "Two of my three daughters, now grown, were figure skaters and I made costumes for them."
She began sewing for Lakeshore Light Opera in 2013, when members of the troupe were asked to perform musical numbers from Yeomen of the Guard at the Lakeshore General Hospital Foundation's annual ball. "In a rash moment, I promised to make the costumes for it," she said. "There are a lot fewer costume-rental stores now, but by haggling for fabrics in fabric stores on St. Hubert Street, I managed to make the costumes for $2,000."
As the society's principal costumer, Ms. Garland is on the lookout for fabrics and notions all year 'round, foraging, as she calls it, in thrift stores. "I use commercial patterns and adapt them," she says. "And we recycle costumes through the 10 operettas that we perform."
The Gondoliers features a cast of 32 on-stage members and 18 musicians in the orchestra. "In The Gondoliers, each of the women in the chorus has one costume and the men each have two," she said. "We've made 15 or 16 costumes from scratch for this show and are recycling about 30 from other shows."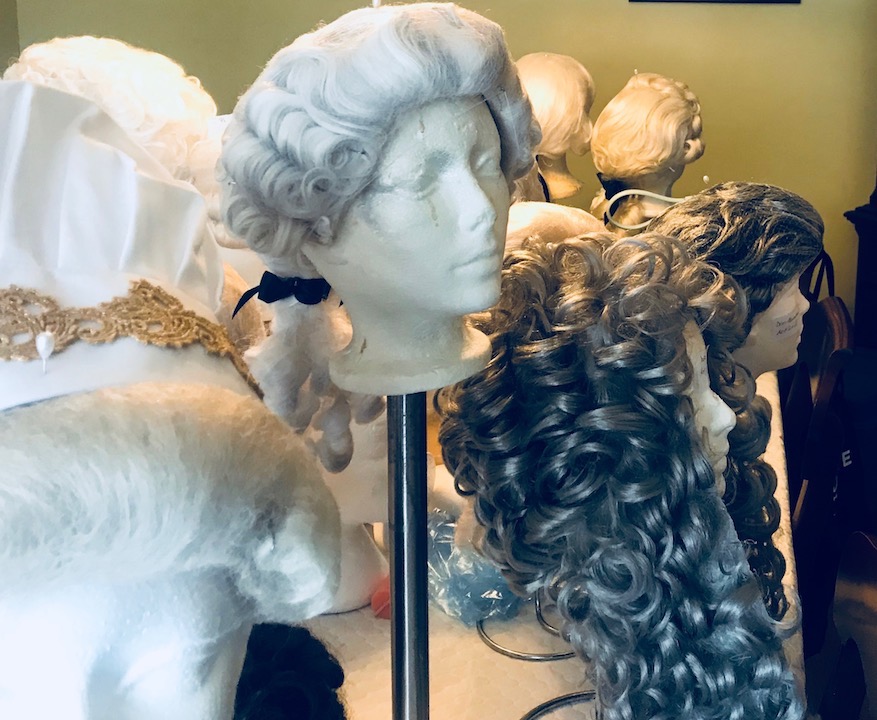 ---
Others on the costume team include seamstresses Lindsay McLeod and Valérie Bontemps. Francine Bourassa dresses those vertiginous wigs and applies the performers' makeup.
While women's clothing included corsetry until about a century ago, female cast members don't wear them under their costumes. And Ms. Garland says she had to adjust the collars on the men's shirts by elasticizing the top button to enable the singers to breathe deeply.
There are occasional wardrobe malfunctions. "Once, during a performance of the Pirates of Penzance, the elastic failed in the pants of the one of men," she said. "He had to hold his pants up until he got backstage, where we have dressers for emergencies. On another occasion, a shoe buckle flew off into the orchestra pit. And sometimes, hats fly off."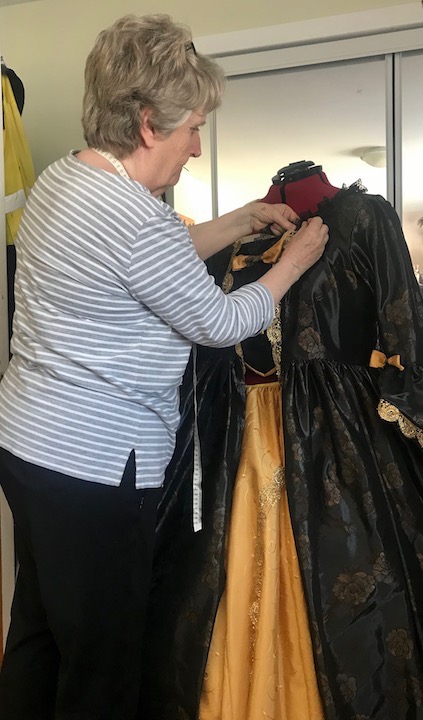 ---
It's all in good fun. And that fun has been a boon for the West Island's local hospital. In the almost-seven decades that LLO has been staging Gilbert and Sullivan operettas, it has raised $248,500 for the hospital's Foundation. In 2017, the Foundation awarded LLO its humanitarian award.
One challenge this operatic society faces is having a stable venue. Past performances have taken place in the auditoria at John Rennie High School and École Secondaire Jean XXIII. This year's run will take place at Vanier College's theatre. "Ideally, we'd like a venue that has an orchestra pit," Ms. Garland says.
Meanwhile, as showtime nears, she's stitching and adjusting the costumes that will bring The Gondoliers to life and dazzle audiences.
You can be dazzled by Lakeshore Light Opera's production of The Gondoliers from March 10 to 18 at the Vanier College Theatre, 821 Sainte-Croix Blvd., Saint-Laurent. For tickets and information, click here.