The annual Empty Bowls fundraiser—featuring homemade soup and ceramic bowls crafted by local potters—will take place tomorrow (Saturday April 30).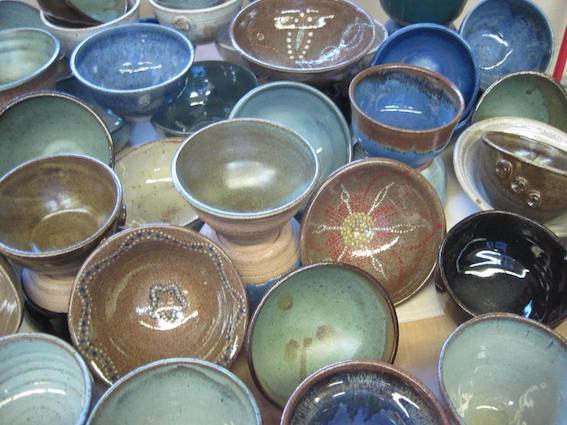 ---
Empty Bowls, an annual event that raises money to tackle food insecurity in the West Island, will be held tomorrow (Saturday, April 30). Some 500 artisanal bowls, crafted by local potters, are for sale; each comes with a serving of soup for a $25 donation.
"It takes a ton of attention and time to produce this event, but it creates a strong sense of community," says Lyse Beaudette, executive director of Corbeille de Pain, the not-for-profit organization that holds the event at St. Columba By The Lake Church in Pointe Claire.
This year's version of Empty Bowls is what Ms. Beaudette calls a "hybrid" event. "We opened sales of the bowls online two weeks ago and have sold 200 of them," she said. "The rest will be sold live on Saturday."
The Empty Bowls movement, now international, began in 1990, when a Michigan art teacher had his students craft ceramic bowls, which were used to serve soup and bread at a fundraiser. The guests who contributed kept the bowls. The program made its way to Montreal during the 1990s, where it's been held in various locations since.
The Corbeille de Pain, founded in the West Island in 2005, hosted its first Empty Bowls fundraiser seven years ago. It was cancelled in 2020 because of the pandemic lock-down. However, says Ms. Beaudette, last year saw the creation of the hybrid event that included an outdoor get-together. "And we'll do it outdoors again this year in the church parking lot," she says. "The city has given us picnic tables."
The one concession to these special pandemic arrangements is that instead of being served hot soup as they would at an indoor event, donors will receive their ceramic vessels and a 500-millilitre container of frozen soup to take home.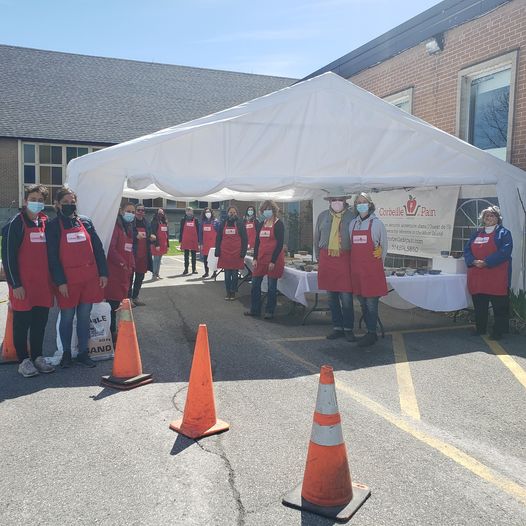 Among the potters who donate bowls to the event is Susan Weaver, who got involved with Empty Bowls in 2015. The previous year, she had spoken to people in the community about bringing the event to the West Island. She encouraged the participation of other ceramicists from the Baie-d'Urfé Potters Guild, Claycrafters Pottery Studio at Stewart Hall and Dorval Potters' Guild. "I used to have to go to the guilds to get the bowls myself," Ms. Weaver said. "Now, they bring the bowls to my house and we store them there. This year, we even got bowls from outside the Montreal area."
The bowls that Ms. Weaver has crafted in her own studio for this year's fundraiser are yellow and blue "in solidarity with the Ukraine crisis," she says.
Pointe Claire municipal councillor Cynthia Homan (Lakeside Heights), says many people assume that the West Island is uniformly affluent. "In fact, food security is such a big thing here," she said. "We have pockets of need, vulnerable people. I have seniors in my district who are property-rich but can't pay their bills, can't eat."
As a parishioner at St. Columba by the Lake, Councillor Homan says that the Corbeille de Pain was a natural alliance for the church's outreach mission. "Our church wanted a mission and this is part of it: the St. Columba food ministry," she said. "I come from a not-for-profit background. When I was elected to council, I was involved with organizations focused on food security and affordable housing."
She praised "the generosity of the potters, saying last year's wares raised more than $7,000 for the Corbeille de Pain's mission.
Saturday's event will feature a vast selection of ceramic bowls, soup and live music outside. "And it's going to be a lovely day (weather-wise). Let's just be clear on that," says Lyse Beaudette, laughing.
Empty Bowls will take place on Saturday, April 30 from 11 a.m. to 2 p.m. at St. Columba By The Lake Presbyterian Church, 11 Rodney Ave., Pointe Claire. The rain date is May 7. For more information: www.corbeilledepain.com.