After owning a popular Pointe-Claire café, homesteader Eleanor Arless moved to agricultural self-sufficiency in Ile Perrot.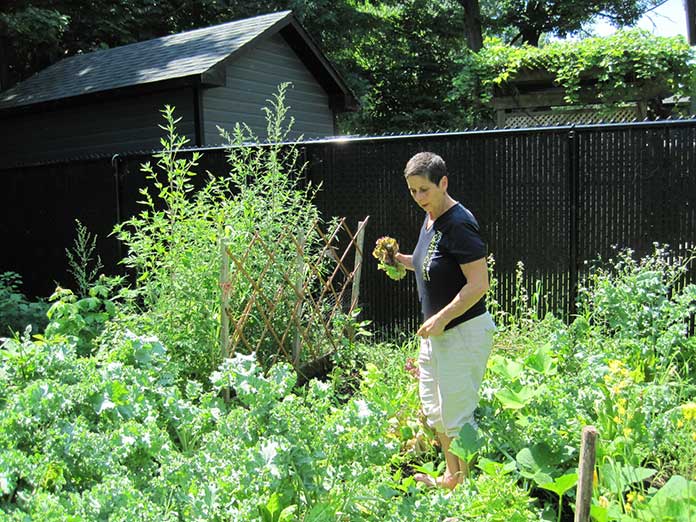 Anyone visiting Eleanor Arless's bucolic homestead can be forgiven for thinking that they're deep in farm country. It's a quiet, peaceful spot where chickens roam in a large pen, dogs frolic, and Eleanor grows her own food . . . an astonishing array of vegetables and fruit.
In fact, this little slice of agricultural heaven is in Ile Perrot, a fast-developing island off the western tip of Montreal Island, where burgeoning suburbs co-exist with remaining tracts of agricultural land and forests. It is simultaneously off the beaten path and close to the urban centre. And it was just the tonic that Eleanor craved when she decided seven years ago that she wanted to be a homesteader.
She had spent the previous 12 years as the owner of Café Marmelade in Pointe-Claire Village, a highly successful venture that she had created on a whim when she decided to buy a former bakery and launch her own eatery. "I had an incredible business that filled my heart with so much love," she recalled. "I love feeding people. I opened the café because I wanted to feed the community. It was about medicinal food and a place for the community to hang out and be creative. It was the most epic time of my life. Everything was in alignment."
She remembers with fondness the dishes she prepared at Marmelade. "All the food I created came from love and from wanting to make people happy. It was 'food for the soul,' a term suggested by my beloved, Sahara," she says. She infused the establishment with a nourishing, happy vibe.
Her stepfather, who was in the food business, encouraged Eleanor in her culinary pursuits. "I was diagnosed with diabetes at the age of 18 and had to learn how to feed myself for my health," she says. "As I fed and healed myself, I wanted to share that with others."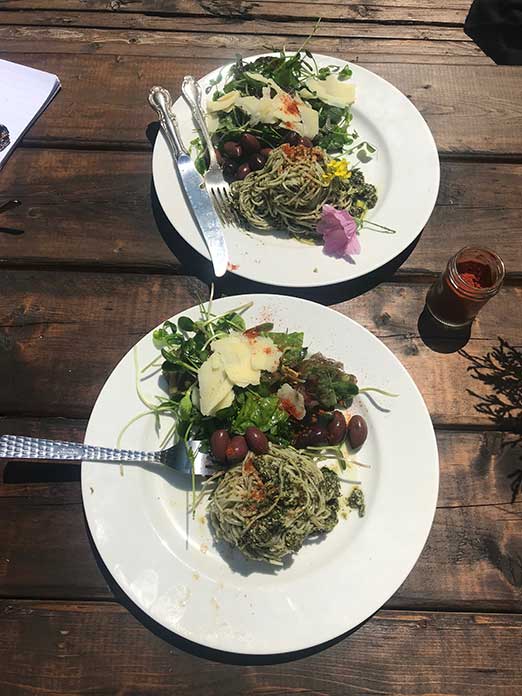 In 2014, she sold the café. She had studied and qualified to be a naturopath and was ready for a change in her life. Then, "one day, a friend suggested a drive to Ile Perrot because I wanted to buy property," she says. "I saw a For Sale sign and within 45 minutes, I'd decided to buy the house because it was near the lake and there were apples, blueberries and strawberries on the land. In that moment, with my mouth full of blueberries, I said 'I'm taking it.' It had been built in 1926 as a summer cottage. The real attraction was that it's on 11,000 square feet of land. The former owners had been homesteaders."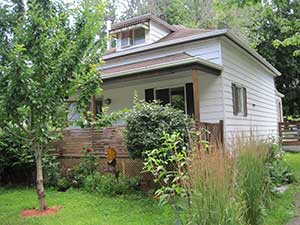 Eleanor moved in during the autumn when it was too late to start growing food. "But the first food-related thing I did was I tapped my three maple trees the following spring to drink the maple water," she says. "I began the garden that spring, and it has grown incrementally since."
The gardens have expanded throughout the years to include several large beds of vegetables and herbs, which provide this homesteader with food throughout the growing season, while three hens supply her with eggs. There was no horticultural master plan. "It's how I feel in the moment," she says. "I plant what I feel like eating." That includes squash, kale, lettuces, beets, tomatoes, kohlrabi, potatoes, zucchini, mustard greens, rhubarb, blueberries and Jerusalem artichoke, among many others.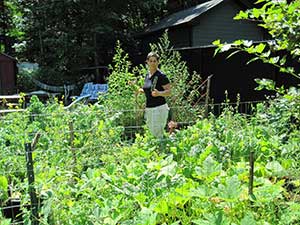 Over the years, Eleanor has renovated the house herself. A project five years ago saw the creation of a sauna in a section of her workshop; last year, she installed an outdoor shower, which is much loved by her dogs—Georgina and Rosie—who use it to cool off. "Showering outdoors in nature, under the stars, is sublime," Eleanor says.
There are neighbours nearby and a strong sense of community in this Ile Perrot enclave.
One of the crops that has proved to be highly successful is microgreens, grown from such things as mung beans and sunflower seeds. "They're a simple way to grow nutritious food even if you're not a homesteader," Eleanor says. "The plants are at their most nutritious when they're microgreens." During the cold months, she raises them in a specially outfitted greenhouse-like area in the basement of her home, where grow lights simulate the sun.
In the cozy, winterized cottage, Georgina and Rosie sprawl on sun-warmed wood floors. It's not surprising that when friends and family visit, Eleanor welcomes them with delicious meals of freshly picked produce. "I love serving a meal, knowing that I grew all that," she says. "It's the energy of pleasing another person. That's pure Shakti."
For the uninitiated, Shakti is the Hindu concept of cosmic energy. Eleanor embraces Buddhist practices in her daily life through meditation and chanting. "By doing this, it helps me to abide by love and compassion," she says. "I love the writings of Pema Chödrön, who said: 'I am the sky. Everything else is the weather.' "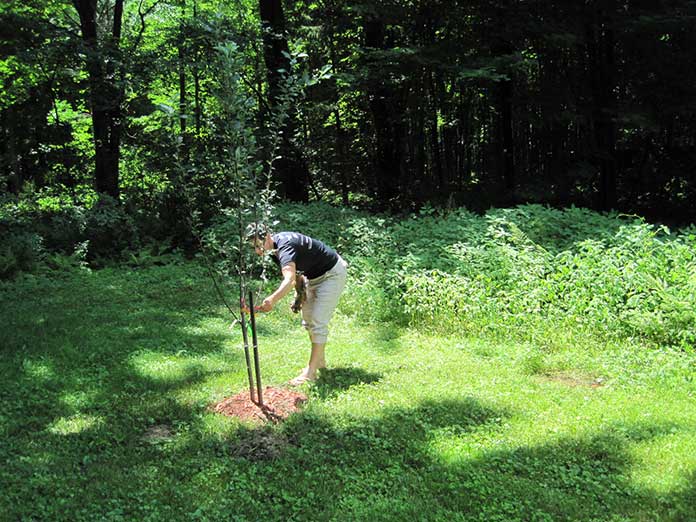 A small statue of the Buddha shares space with plants in one of the vegetable patches. Another statue of a serenely smiling Buddha face adorns the front door, presaging the peace in the house. "This is my sharanam," Eleanor says. "My refuge."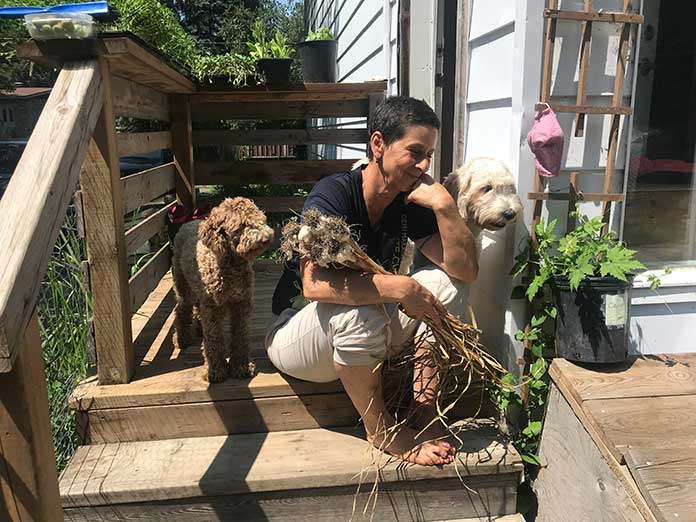 Her home and the land surrounding it may be in a semi-suburban area, but it might as well be 100 miles from the city. "When I arrived, there were no vegetables growing," she says. "There was just that cabana there. But I was so inspired by the fact that the previous owners had been homesteaders. They grew all sorts of stuff. 'Sow and ye shall reap.' "
That goes for love and compassion, too, she says.