A Pierrefonds couple sow a crop of beautiful crimson clover to replace their patchy, weedy lawn.
The concept of living "in clover" is about more than enjoying a life of ease and luxury. These days, it literally means never having to mow a lawn.
Lisa Miller and Claudiu Ana discovered that clover was the perfect replacement for the scruffy lawn in front of their Pierrefonds home. "We had a really bad lawn," Ms. Miller says. "It wasn't level. It was weedy. And we were paying someone $80 a month to cut it so the weeds wouldn't be visible."
During a discussion with their neighbour (a horticulture buff), the couple learned that they could replace the grass and weeds with a crop of clover that would provide plenty of greenery but never need mowing. "Our neighbour knew of a company in British Columbia that we could order clover seeds from," she says.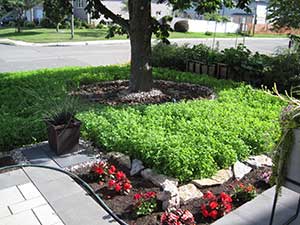 So in July, Mr. Ana removed the existing turf and ordered two bags of clover seeds from West Coast Seeds. "It's clover that has a crimson flower, which we don't see a lot here," says Mr. Ana.
With the turf removed and the soil turned over, the couple used a salt-and-pepper shaker to sprinkle the seeds evenly over the surface of the soil. Then they covered the area in geotextile to keep the seeds damp. "We removed it after three days and there were little shoots all over the place," Mr. Ana said. "The area is 600 square feet, but we used seeds to cover 1,000 square feet." Total cost: about $50.
Within three weeks, the area that once was covered in patchy, weed-ridden grass was supporting a velvety-green clover lawn. The plants grew fast to form a thick mat of six-inch-tall clover, which inhibits the growth of weeds. A pollinator plant, the clover is already attracting bees and other beneficial insects.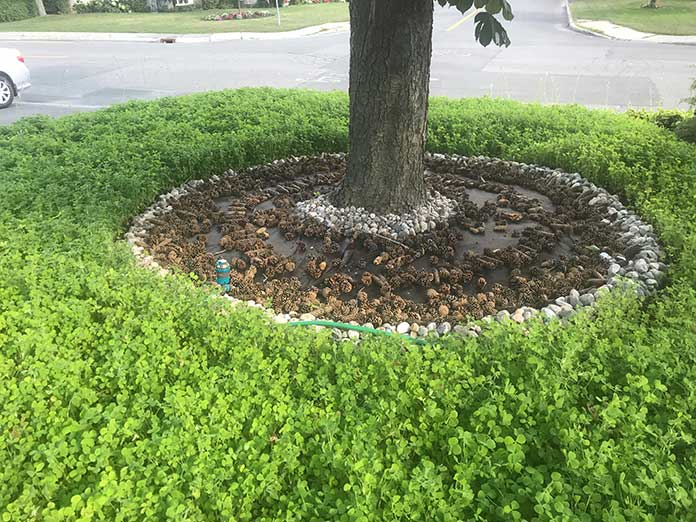 One of the elements that the couple love most is the way the clover lawn ripples in the wind. "It looks like a cloud," Mr. Ana says. Buoyed by their success in the front yard, they plan to extend the clover to the side of their house next season to eliminate the weedy grass there.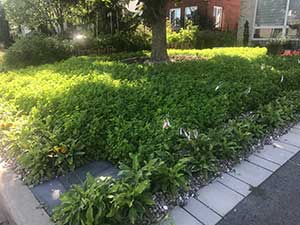 The clover lawn has drawn a lot of attention in the neighbourhood. "People stop to ask us about it," Ms. Miller says. "They want to know what it is."
Good ideas have a way of spreading through communities.