After voting to exempt the Cadillac Fairview project from the city's development freeze, three municipal councillors hosted a meeting Saturday to hear their constituents' views and to explain the status quo.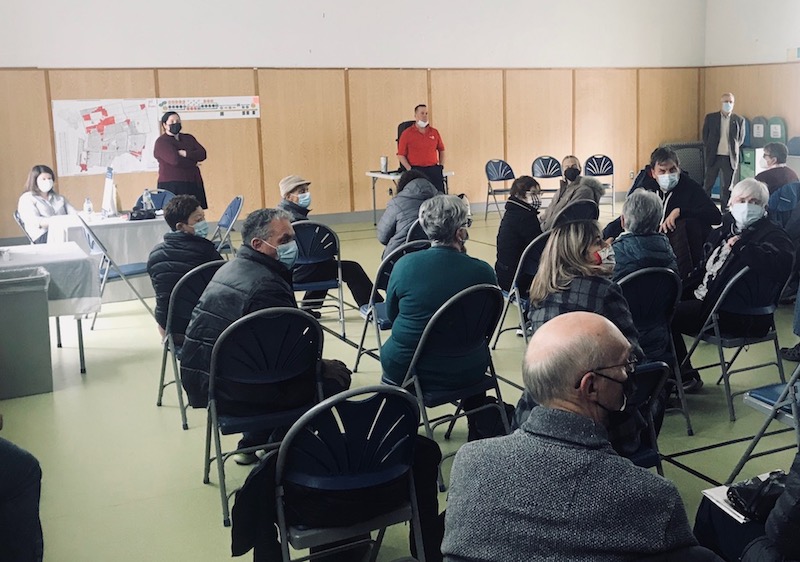 ---
More than 50 Pointe-Claire residents met with three of their municipal councillors Saturday morning to express concerns about development in their city.
The somewhat impromptu gathering in a Lakeside Heights park chalet followed a vote by council last Tuesday to exclude Cadillac Fairview's controversial "parking lot" project from a development freeze. Council tabled an Interim Control draft bylaw (known by its French acronym RCI) that extends the development freeze in various sectors of the city. It is scheduled for adoption in May.
The exempted Fairview project would possibly see the creation of two apartment towers and a seniors' residence on 8.9 hectares in the south-west parking lot of the Fairview shopping centre. The plan also calls for green space—a public plaza—to mitigate the heat-island effect.
At the Saturday gathering, residents expressed their concerns to councillors Tara Stainforth, Eric Stork and Brent Cowan about increasing densification in their suburb. Several heated exchanges among attendees illustrated frustration and anger about the continued construction of multi-storey housing.
Some attendees cited worries about an inadequate infrastructure to support a population increase. "We want to live in a suburb, but Pointe-Claire is being sold for money," one resident said. "We don't want a downtown here."
Some expressed concern that the rate of development has been so rapid in recent years that the proliferation of "silo" buildings has outstripped the creation of leisure and recreation services such as swimming pools and parks, to serve them. "We understand that we need some densification, but our concern is for green space," one resident said. "If we bring in young families, what are the kids going to do?"
Another resident asked for assurances that developers will not have the latitude "to do what the heck they want."
"They cannot just do what they want to do," Councillor Eric Stork reassured the residents. "Cadillac Fairview does not have free reign to put up 27-storey towers. There are restrictions at every level."
Councillor Tara Stainforth reinforced that message by suggesting that if developers do not negotiate in good faith with the city, "there's nothing to stop us from putting a freeze on the project. There is no lack of control here. It's the furthest thing from the truth. The Fairview plan is not at a point of being in front of the city and being accepted. We want to see what Cadillac Fairview has in mind. We want to get the whole picture."
Added Councillor Brent Cowan: "They (Cadillac Fairview) have a vested interest in having community support. There will be a review process; that's what the planning department does with a sharp pencil."
The Interim Control bylaw, expected to become law next month, imposes the development freeze to allow the city to redesign its outdated 2009 urban plan, which long predates the construction of the Réseau express métropolitaine. "Nothing can be built or demolished while the freeze is in effect," Councillor Stainforth said.
The Saturday question-and-answer event began as Councillor Stork's meet-and-greet with residents in his district. But given the developments of the past week, his colleagues joined him to answer the many questions that residents have about the future of the city.
Councillor Cowan said the city will be better positioned to get concessions from Cadillac Fairview if it negotiates in good faith. "We don't have to negotiate with a big stick," he said. "Cadillac Fairview is here for the long term. And we represent you (the residents). For your voice to be heard by Cadillac Fairview, it has to be through us."
Each of the councillors said that a major concern for the city is the creation of affordable housing. The current hot real estate market has made it difficult for first-time homebuyers to obtain houses on the island of Montreal. "We want to be able to discuss affordable housing with Cadillac Fairview and the possibility that they'll help us build an overpass for cyclists and pedestrians," Councillor Stainforth said. "If we make them wait six years, will they want to discuss those things with us?"
After the bylaw is adopted, the city will begin a consultation process with residents.