As an animal lover who has owned every pet imaginable, Tania Duczak is perfectly placed as the owner of Chico, a store that offers a vast range of pet products.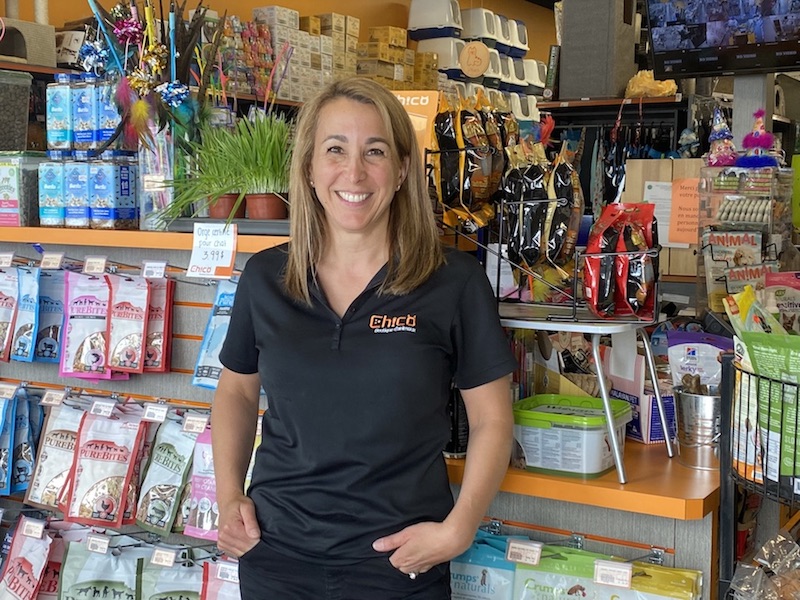 ---
It's not surprising that Tania Duczak is the owner of a highly successful pet store in Vaudreuil-Dorion. She has qualities that make her perfect for the role. "Since childhood, I've always had a passion for animals," she says. "In fact, I have a house full of animals now."
Added to that is the fact that she's been a serial entrepreneur throughout her adult life, with an expertise in customer service and a strong intuitive knowledge of how to run things.
Three years ago, Ms. Duczak opened Chico, a 3,500-square-foot pet store that specializes in every pet supply an animal lover could want. It's so successful that her staff numbers 11 employees (including a manager and two assistant managers) and she clocks long hours to ensure that her burgeoning clientele gets the products they need.
She grew up in an entrepreneurial family, and established her own business when she was in her early 20s. "I had just finished university and I opened a scrapbook store in Laval," she said. "At that time, I had two babies and ran the store with them in tow. A year into the business, I realized we needed French scrapbooking materials, but there was nothing available in French at the time. So I started manufacturing French materials." After three years, she sold her shares in the store to her business partner and later, sold the manufacturing arm of the company.
In 2008, Ms. Duczak began working with her mother, also an entrepreneur who was a designer and manufacturer of women's fashions. "We developed high-end clothing and sold to 800 boutiques across North America," she said.
Five years later, she and her mother sold the boutique line to a competitor, and Ms. Duczak was ready for another challenge. This time, she opened a Crossfit gym with a partner. "We owned it for four years but the high rents in the area made it impossible to keep it going, and we closed."
She had long harboured a dream of owning a pet store. So three years ago, Ms. Duczak bought a Chico franchise. For the uninitiated, Chico is a Quebec-based franchiser, founded in 1985 by Pierre Charbonneau. "I chose Chico because they allow me to stock the store with what I want," Ms. Duczak says. "The benefit of running a franchise is that the parent company provides national advertising, great rates with suppliers, knowledgeable help and, of course, an established name. Those key properties allowed me to start my business on the right foot."
Chico offers a vast array of products, including items for the animals we think of as house pets—cats, dogs, birds, small rodents—and unusual pets, including snakes and reptiles and such mammals as hedgehogs and sugar gliders (a kind of possum).
Ms. Duczak is very knowledgeable about animals' needs. She shares her home with her fiancé, two children and three cats, a dog, three snakes, a ferret, a betta fish and a hamster. "You name a pet, I've had it," she says. "My first business when I was a young adult was raising and breeding geckos. And I've never said 'no' to my kids when they wanted an animal, even though I knew it would be a 25-year investment for me."
She educates her clients on how to meet the needs of their pets. "We know that many animals need mental stimulation," she says. "A lot of behavioural issues can be resolved by stimulating an animal mentally. That's why we sell puzzles for dogs, cats and rabbits. Twenty minutes of mental stimulation for an animal is equivalent to a couple hours of physical stimulation."
And while Chico is not qualified to carry veterinary medicines, there is a vast array of homeopathic remedies. "I had a customer with an anxious dog," Ms. Duczak said. "She didn't want her dog on meds, but listened to me about naturopathic remedies for anxiety."
The store offers a guarantee: If a food disagrees with a pet, it can be returned. "We donate all the open packages of food to animal shelters," she said.
One astonishing element is the stunning choice of products at the store that far transcends just pet food—everything pet owners need to happily coexist with their animals. We're talking life jackets and boots for dogs, many styles and sizes of scratching posts for cats, bedding for every creature from hamsters to horses, dozens of varieties of cat litter, food for wild birds, toys, motorcycle goggles for dogs, frozen rodent foods for snakes, aquaria and cages, lights for reptiles. And that's just for starters. "I do not sell anything that a customer doesn't want or need," Ms. Duczak said. "We educate people about the best care for their pets, even how to potty train and crate a dog. For instance, most people don't know how big a hamster cage should be. We want people to know."
She says that the size of the store often gives visitors the impression that Chico is a big box store or part of a large corporate chain. "It isn't," Ms Duczak said. "It's me. I'm a single mum, not a big chain store. I took out a mortgage to open this business. I work 80-hour weeks. People don't understand that."
What they do understand though is that this is a place that meets their needs and the needs of their beloved critters.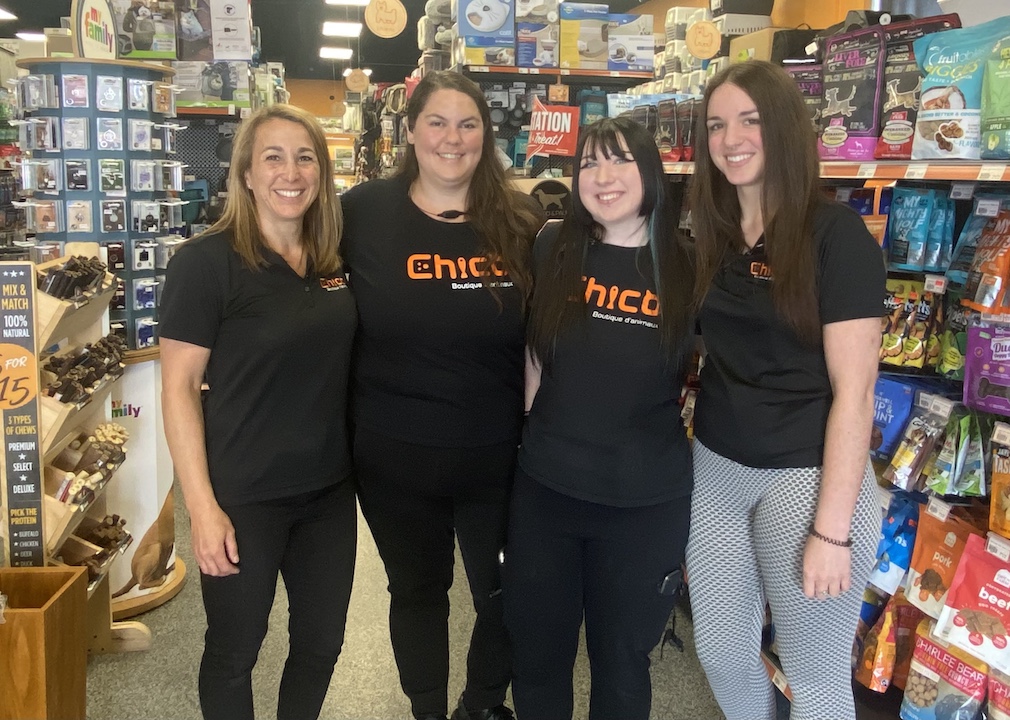 Chico Pet Store
51, Cité-des-Jeunes Blvd., Vaudreuil-Dorion