Working in jobs that enabled her to solve problems and help people—along with co-hosting an entertaining radio show—prepared this broker perfectly for her career.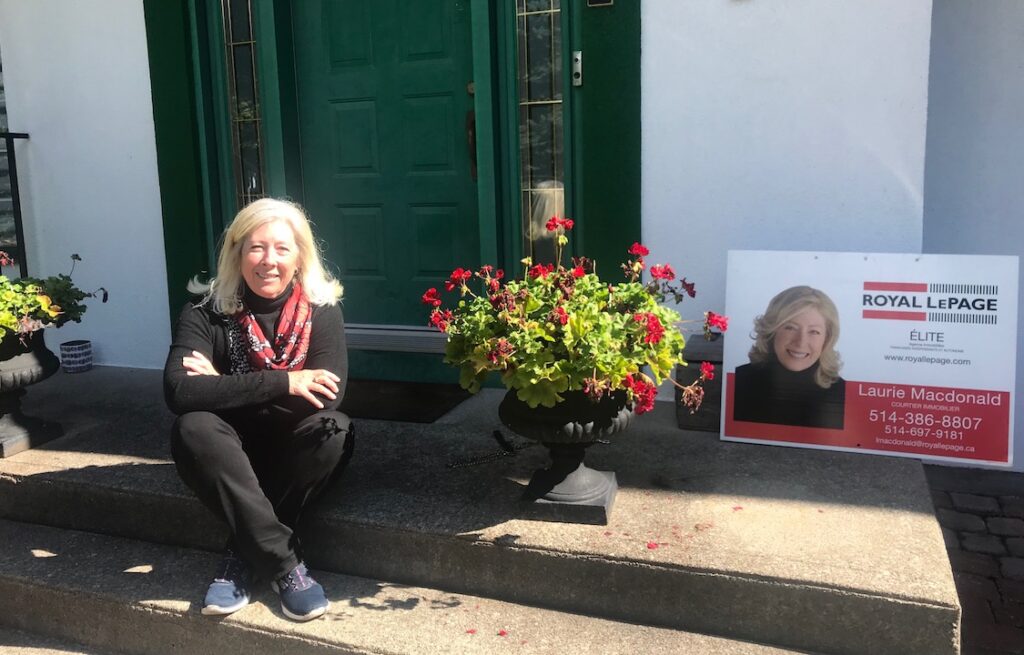 ---
For someone who once professed that she wanted jobs instead of a career, Laurie Macdonald has certainly had an impressive career.
In the past 18 years, Ms. Macdonald has made her mark as a successful real estate broker in the West Island. And when she looks back at the many jobs she's held—the experience and knowledge they bestowed on her—she realizes that her gigs were pushing her in the direction of her real estate career.
Radio buffs may remember Ms. Macdonald as half of a comedic duo on the Laurie and Olga Show, which aired Saturday afternoons on CJAD. More about that later.
How does someone move through positions in such disparate sectors as insurance, healthcare, airlines and academia into real estate? Rather fluidly and with flair, as it turns out. "I grew up in Lachine, and when I finished school, I decided that I didn't want a career; I wanted jobs because I loved travelling and didn't want to be tied down," Ms. Macdonald recalled.
Her mother had other ideas though. "I was working in insurance," she said. "My family owned a chronic-care facility—the Bussey Hospital—and my mother offered me a job doing clerical work to make me realize that I should go back to college. I worked there for five years." She did enroll in CEGEP but didn't enjoy academic life and returned to the workforce.
Given Ms. Macdonald's effervescent personality and upbeat vibe, it's easy to understand how she aced her many jobs, some of which involved solving other people's problems. Moreover, each job gave her a skill set that she uses in real estate.
She did administrative work at the Royal Victoria Hospital, worked for a builder for a couple of years, coordinated a work-study program in the Lakeshore School Board for intellectually handicapped students, and was on the reservations desk at Eastern Airlines. "After my son was born, I knew I wasn't a stay-at-home-mother type, so I bought a daycare centre and had him with me there," she said. "Once he was at school, I sold the daycare centre."
She was offered a job working in baggage claims for Air Canada. "Turning lemons into lemonade became my specialty," Ms. Macdonald says. "No one is happy when they call baggage claim. But I loved the work. I think people just want to be heard."
Then there was the position running the students society on McGill University's Macdonald campus. "Having summers off was a selling point," she said.
One day in 1996, on a lark, Ms. Macdonald and her best friend Olga Gazdovic auditioned in a contest to win a radio show on CJAD. They won, and were featured in the overnight slot on Saturdays.
"This was before reality TV," Ms. Macdonald said. "The show was unscripted and it was real, a free-for-all. We talked about life, and there are no boundaries with life. We discussed families, girlfriends, boyfriends, fun."
Then one Saturday, they were drafted to fill the afternoon slot on the radio while the regular host attended a funeral. "I had an abscessed tooth and made a plea to my dentist on air because I couldn't phone him on a weekend," she said. "Someone phoned in and recommended gargling with urine for an abscessed tooth. Olga said: 'Laurie, I love you but will not pee into a cup for you to gargle.' " It was their usual on-air comedic banter, except this time, because it was daytime, they were heard by radio executives who promptly moved them off the overnight shift and into the Saturday afternoon slot. "And we continued to do the show until 2014, when there were layoffs," Ms. Macdonald recalled.
By 2004, she'd spent five years studying human resource management at McGill and was pondering her next job. "I was visiting family in Florida and one day, I sat on the beach and wrote down all the things that made me happy: People, decor, architecture, making people happy, solving problems, helping people. Everything pointed to real estate."
When she returned home, she learned that John Abbott College would offer its first-ever real estate program, and it would start soon. She gave notice at her job at McGill, and enrolled in the intensive full-time course that lasted four months. "I loved it, especially learning about real estate law," she said. "I found other students and we formed a study group."
By July 2004, with a freshly minted real estate licence, Laurie Macdonald now had a career. She went to work at the Royal Lepage brokerage in Beaconsfield, where she was mentored by broker-owner Jim Lennon, and has remained there since.
Ms. Macdonald brought with her a rich and textured work experience that enabled her to understand her clients' needs. "When you do radio, you always have to tell the truth about yourself because people will remember and call you on it," she says. "It's the same in real estate. You have to be honest, open and genuinely listen to what clients are telling you. Not everyone sells a house for happy reasons. They may be doing it because of divorce, death or unemployment. So a broker needs to have a sense of whether her clients are joyous or devastated."
She sells homes throughout the greater Montreal region and Eastern Townships, and has never had to advertise. "Almost all of my business comes through referrals," she says. "I'm a one-stop shop, working alone."
She represents vendors and buyers. "When I work with buyers, I tell them before they see a house for the first time, that it's a first date—all sunshine and lollypops," Ms. Macdonald says. "If they like it, they need to have a second date and this time, take a family member or best friend along. It's on the second date that the warts begin to show."
She also understands how much emotion people invest in selling their homes. "I tell my sellers to be open and to emotionally remove themselves from what they're selling . . . to call it a house and not a home," she says.
When she meets prospective clients for the first time, she explains that real estate is personal. "You have to connect with each other and be comfortable with each other."
Ms. Macdonald says her many jobs have prepared her for real estate. "I treat my clients as if they were family with respect to how they spend their money. Would I allow my brother to buy that house at that price? Would I want my niece to live in that neighbourhood? How safe is it?"
This is the job where she'll stay. It is, after all, a career.