Some 200 trees have been planted on the Macdonald campus by a group of dedicated faculty and staff to honour McGill University's bicentennial.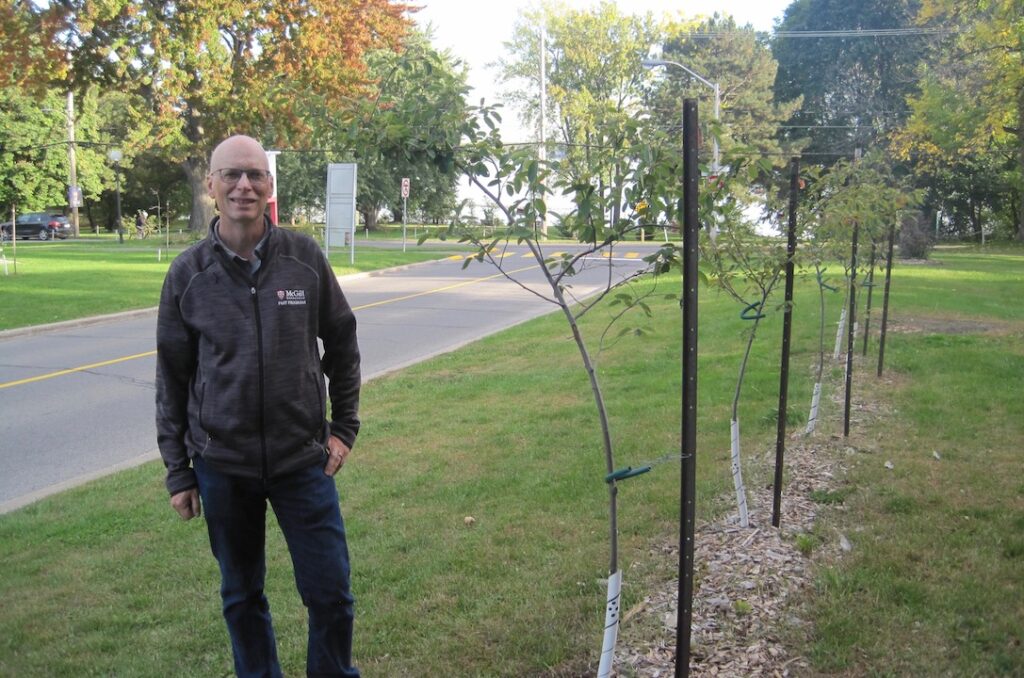 ---
A tree to mark each year. That was the idea behind planting 200 new trees on the Macdonald campus of McGill University.
In 2019, a small group of faculty members and staff on the campus in Sainte-Anne-de-Bellevue began planning a gesture that would honour McGill's 200th birthday in 2021. They decided to enrich Montreal's urban forest by planting 200 trees on the campus—one for each year of McGill's existence.
"Sainte-Anne's is a good location for this because we have a lot of green space," says Professor David Wees, a lecturer in Farm Management and Technology in the Agricultural and Environmental Sciences Faculty. "We have a lot of farmland, too, and have planted trees as wind breaks around the fields."
Prof. Wees was one of the members of a committee of four—with Lindsay Flood, Franco Nardi and Freida Beauregard—who planned the Macdonald Campus Tree-Planting Initiative. And while it was expected to coincide with the university's bicentennial last year, it was somewhat delayed by the Covid pandemic, when some tree species were unavailable for purchase. 
In addition to adding to the urban forest, the program has provided teaching opportunities for four courses. "Part of what I teach is plant-identification," Prof. Wees said. "It's good to have trees near and on campus."
The committee chose various trees and shrubs that are not abundant on the campus. "We didn't want to plant the same specimens that are already there," he said. "We also wanted more plants that are native to this area. We have a lot of Norway maples on campus, but there aren't a lot of striped maples, for instance. So that was one the species we chose."
Other species include serviceberry, hackberry, American elderberry, nannyberry (a viburnum), yellow birch and American hornbeam.
There were four main planting dates, in which as many as 100 people took part, including students. One phase of the planting schedule saw the addition of silver maples, green alders, downy serviceberry and pagoda dogwoods. "Some of the trees, including small willows, were planted near the shoreline because they will be able to handle spring flooding," Prof. Wees said.
In the autumn of 2021, the plantings included red maples, pin oaks, eastern white pines and eastern white cedars.
"Altogether, we planted 203 trees," he said. "Most have survived. The only tree we had a problem with was the pin oak. Right now, the trees are small and scattered around the campus, but that's how it starts. Five years from now, we'll have a little forest."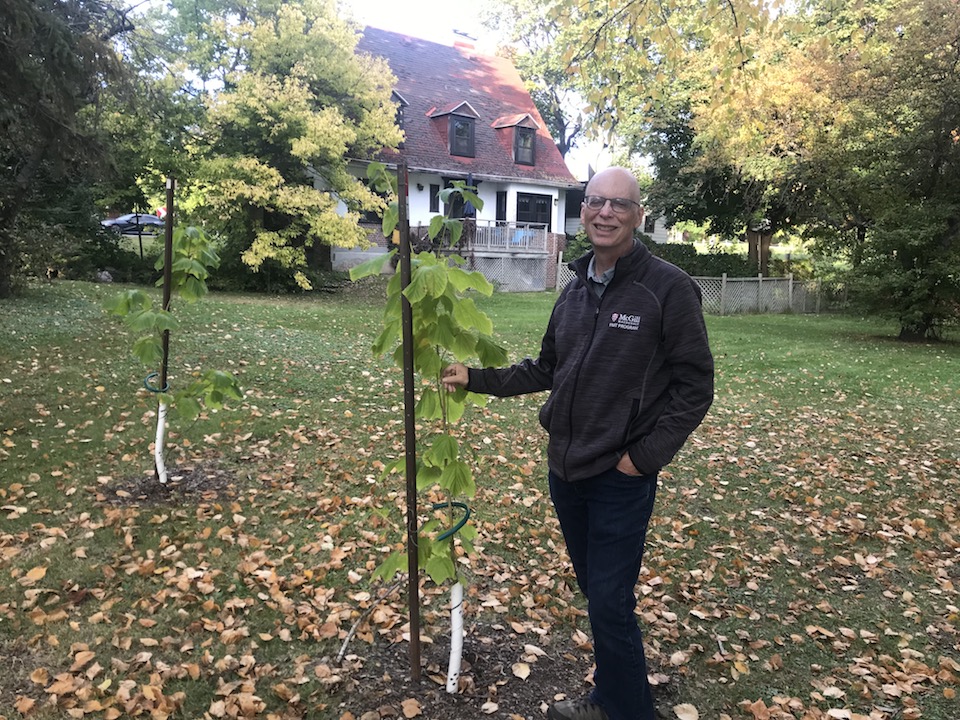 ---