A couple's garden in Lakeside Heights is certified as a wildlife-friendly habitat by the Canadian Wildlife Federation and a monarch butterfly way station by Monarch Watch.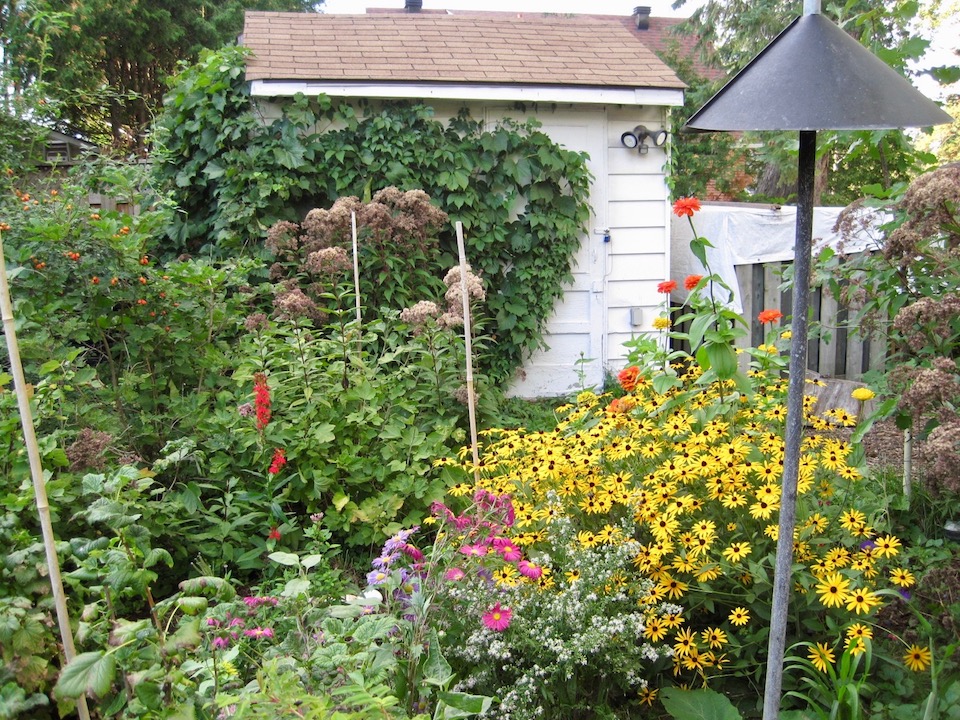 ---
Occasionally, passersby stop to ask Rick Karam about his front yard. In particular, they're curious about why it's so different from the standard model of suburban landscapes. There are no lawns or shapely flower borders; just trees, shrubs and such plants as milkweed behaving as they would in a natural setting.
In fact, what Rick and his wife Carol Weightman have created around their Pointe-Claire home is a pollinator-friendly garden and a way station for migrating Monarch butterflies. "We were getting a lot of questions about the yard, which is certified as a wildlife-friendly habitat through the Canadian Wildlife Federation's Backyard Habitat Certification Program," Rick says.
So they printed pamphlets, which they stock every spring in a sheltered box on their property. Passersby are encouraged to help themselves. And there are signs explaining how this habitat contributes to the wellbeing of wildlife.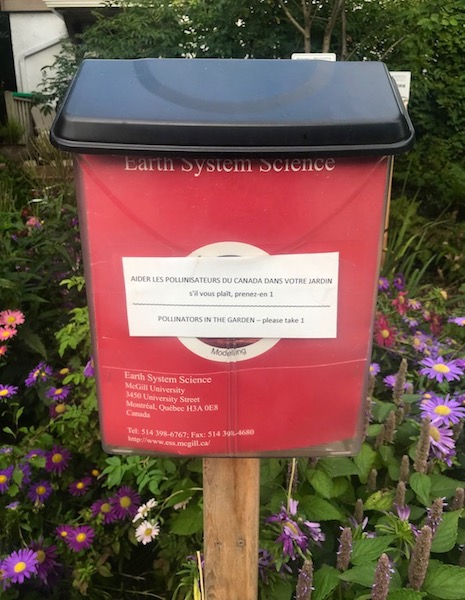 When Carol and Rick bought their house in 1996, the yard was lawn-covered and there were a few trees. But they wanted more. "I've always had a green thumb and am a 'greenie' at heart," says Carol, who has a Bachelor of Science degree. "When I was a student at Macdonald College, I worked on research projects related to the forest environment."
The garden has evolved into one that feeds both wildlife and the gardeners themselves. A large vegetable patch on the south side of the house produces squash, zucchini, tomatoes, beans and raspberries among other produce for the couple's table. Red and black current bushes are planted in the backyard.
Carol says that raising food is about more than just cooking dinner. "I know that some people believe we cannot feed the world organically," she says. "But those of us who have a little piece of land can grow food for ourselves and relieve pressure on the agricultural system. You can also make quite a dent in your grocery bill."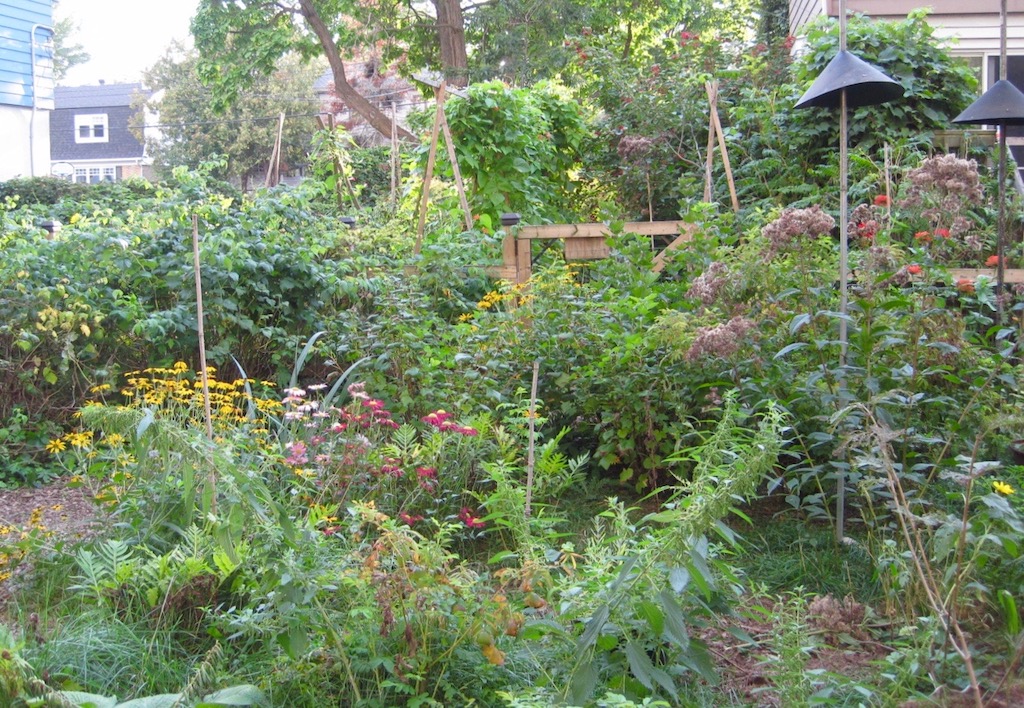 ---
To ensure their property is attractive to wildlife, Carol and Rick grow mainly indigenous plants, many of which Carol forages for in natural settings. They include wild violets, dame's rocket, rugosa roses, bloodroot, Joe Pye weed, goldenrod, thistles, and jack-in-the-pulpit. Serviceberry shrubs are a hit with wildlife. "We can eat service berries but we leave them for the birds," Carol says.
One showy annual that is beloved by pollinating bees is China asters, swaths of which grow in the front yard. "The bees adore them," Carol says. "These started after Rick got a couple of packages of native wildflowers for pollinators." The asters, one of the few non-native plants in the garden, reseed every year.
Occasionally, neighbours give Carol and Rick plants for their garden; that's how a swath of attractive irises took up residence in the front garden. "I'm an opportunist. If a plant has value and can survive, it can stay," Carol says.
The couple has also used plants, such as vines on trellises, to cool their home's interiors during hot summers.
Birds flock to the garden. "We've had chipping sparrows nesting here, and we get a lot of pinnacle species, such as pileated woodpeckers and birds of prey," Carol says. She describes the heated birdbath on the backyard deck as a "game changer" because of its ability to supply birds with water year-round.
To qualify for the Backyard Habitat Certification Program, a garden must meet a list of criteria, Rick says. These include food for wildlife, shelter, a water source and a pesticide-free environment. "We got the certification because we were getting a lot of questions," he says. "We feel the responsibility to do something."