A development freeze in the northeast sector of Dorval will allow for a year-long consultation with residents to determine how the area should be transformed.
---
It was in a perfect location: a neighbourhood that offered easy access to services, including the commuter train. Eleven years ago, Shelagh Peden Markovits and her husband Jason Markovits bought a triplex in a conveniently located but mixed-use area: the northeast sector of Dorval.
A few decades earlier, the area had been a residential community, complete with orchards. By the time the Markovitses bought their home though, the neighbourhood had evolved into a tapestry of commercial and industrial businesses with only 10 homes left as reminders of its residential past. Those houses currently stand amidst such businesses as auto body shops, trucking firms and building-supply companies.
"What we loved was the convenience of the area," Ms. Peden Markovits says. "It's so central: a 10-minute walk to the train station and a 20-minute train ride to my job in the city."
In March, Dorval's municipal council adopted an interim control bylaw that freezes development in the area, which is a triangle bordered by Highway 20, Cote de Liesse Road and 55th Avenue. The freeze will allow the city to create a development plan for the sector's future.
Dorval Mayor Marc Doret says the city will spend the next year conducting public consultations about the area. "Anyone who does not have a building permit right now cannot go ahead with any projects until after the consultation," he says, adding that the development freeze is valid for 90 days, after which time the city will decide on its next step. "Our goal is not to use the interim control bylaw to stop development, but to develop a global vision of what that sector should have."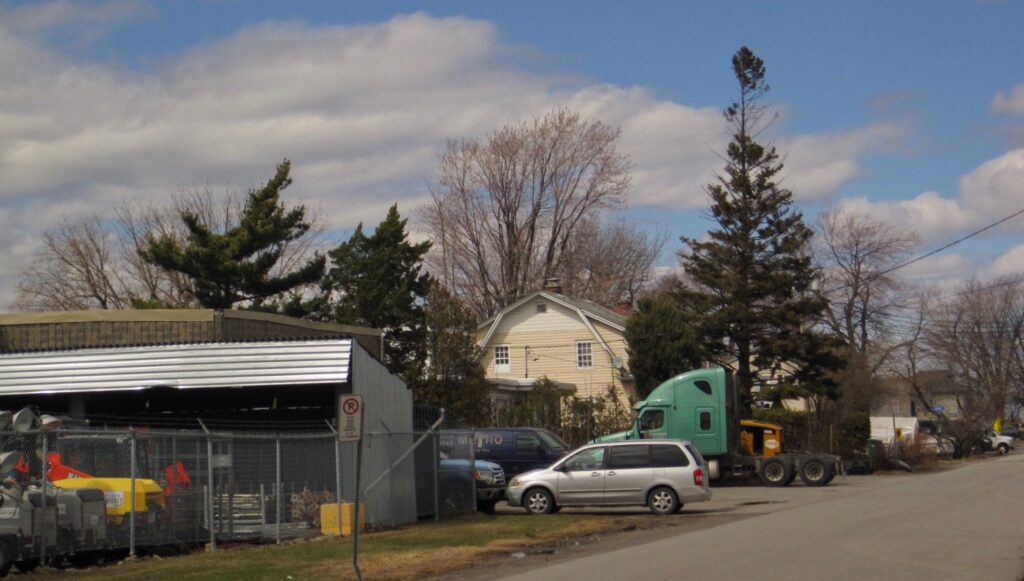 Mayor Doret describes the city's northeast sector as a mish-mash. It comprises hotels and restaurants on Cote de Liesse Road, light industry spanning the area eastward to 55th Avenue, and two streets of houses, interspersed with industrial buildings. "There was once a race track there," the mayor says. "The Elm Ridge Country Club extended there in the '40s, '50s and '60s. The city's former mayor, Edgar Rouleau, lived in the area."
Gradually, spot zoning resulted in the industrial-commercial mix that exists now. "When people arrive at Montreal's international airport, the first thing they see is Cote de Liesse Road and it looks awful," Mayor Doret says. "We need to come up with a vision for the area. It's ripe for redevelopment."
He says potential development could include a mix of high-, medium-, and low-density housing, a convention centre, or sports facilities. All possibilities are open until Dorval residents have had their say in the year-long consultation process.
The development freeze echoes a similar process in neighbouring Pointe-Claire. As regional and provincial legislative bodies call for population densification along transportation corridors (called transit-oriented development), suburbs are rethinking their urban plans.
Mayor Doret says a one-kilometre radius from the Dorval Circle on Highway 20, is the area that is ripest for densification. Last year, the North American Development Group broke ground on its Square d'Orval project, south of the Dorval Gardens Shopping Centre. At completion, it will comprise six towers of rental housing and condominiums.
Ms. Peden Markovits says she is eager to participate in the consultation process that will have an impact on her neighbourhood. "I'm glad to see planning going into this but am anxious about the length of the freeze," she said, adding that one potential improvement could be the addition of grassy strips between sidewalks and roads. "I'm also curious about the maximum heights of buildings that will be allowed.
"I'd love to see a store nearby that would sell me a litre of milk and a loaf of bread," she added. "There's little in the way of stores in this neighbourhood, so prices at the local gas stations are outrageous."
The original part of the house that she and her husband bought dates to 1940. It was extended in the 1970s, and transformed into a triplex, two units of which the couple rent out.
The neighbourhood is quiet, Ms. Peden Markovits says. "The industries here are closed in the evenings, so we can have garden parties and make noise outside without bothering anyone."
Will established industries in the area be ready to vacate in favour of housing? "Some will hold out, but industrial parks are all over the place," says Mayor Doret. "Someone storing roofing shingles in that neighbourhood could be doing that elsewhere."
The city has retained the services of BC2, an urban planning and development consulting firm. BC2 will organize consultations with residents, which will begin in late August or early September.