Pierrefonds resident Robin Finney mounted her disused trinkets and jewelry—collected throughout her life—in a shadow box, creating a poignant family memento.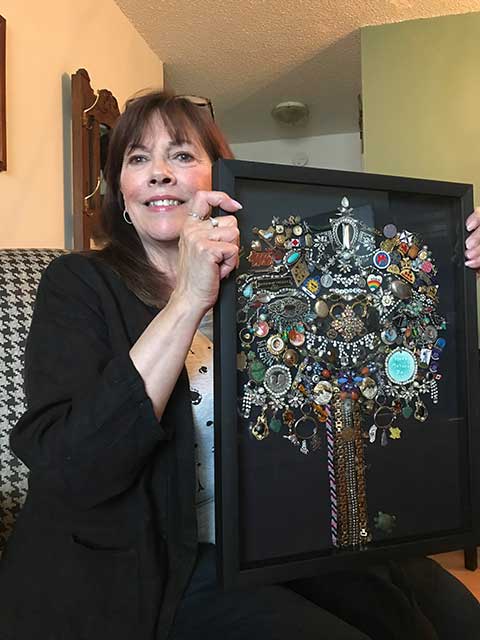 Every home has at least one drawer full of forgotten trinkets and whatnots. Pieces of broken jewelry share space with children's sports medals, buttons, key chains. These items may have outlived their function, but many are meaningful, even poignant.
It was such a drawer that Robin Finney scrutinized during the depths of the pandemic.

"I was cleaning up and was going through pieces of junk in a box," she says. "I didn't know what to do with them. I couldn't just throw them away. They represented my life up until my children grew up."
Then Ms. Finney had an idea. What if all of these disparate items could be displayed as if they were a piece of art. She bought a shadow box—a glass-fronted display case—and got to work.

She used a glue gun to affix each piece of memorabilia to a black-linen background. As a collage, they form the shape of a tree—a symbolic family tree.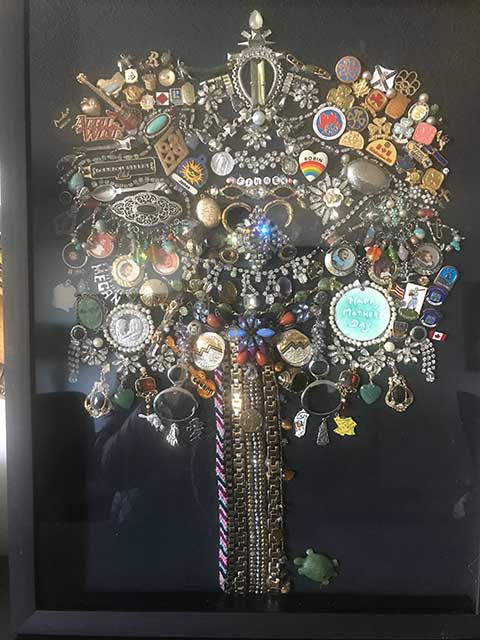 "I started with a necklace that had been passed back and forth between my daughter and me," says the Pierrefonds resident. "I also had a medallion given to my grandmother for climbing the stairs up to St. Joseph's Oratory, and a pin commemorating the 1976 Olympics; my daughter was born during those Olympics."
Each of the pieces in the collage represents a period of Ms. Finney's life, both in her youth and during the years when she was raising her three children, who are now adults.
Take a look at the tableau. Here, for instance, are her Girl Scout medals, awarded while she was growing up in Connecticut and later when she was a Girl Guide leader in Montreal. Here's a keychain owned by her late partner of 16 years who raised her third child: Jim Clench, musician with the rock groups April Wine and Bachman-Turner Overdrive. Here are the broaches and bracelets that Ms. Finney "wore during my working days in offices." Here are opals that her father brought back from Australia, little lockets that contain tiny photos of her children when they were newborns, a sand dollar from a holiday in the Turks and Caicos Islands, and her own baby bracelet.
Some of the items belonged to other family members: medals awarded to her children for athletic activities, and jewelry that belonged to her mother and other family members whom Ms. Finney has loved. "Broken jewelry and memories," she says. "When you step back, the display looks great. But when you get close, you can see that some of the pieces are broken. And some pieces are sad. This is the pin of a woman whom I looked after for years who became senile. She was like a grandmother to me."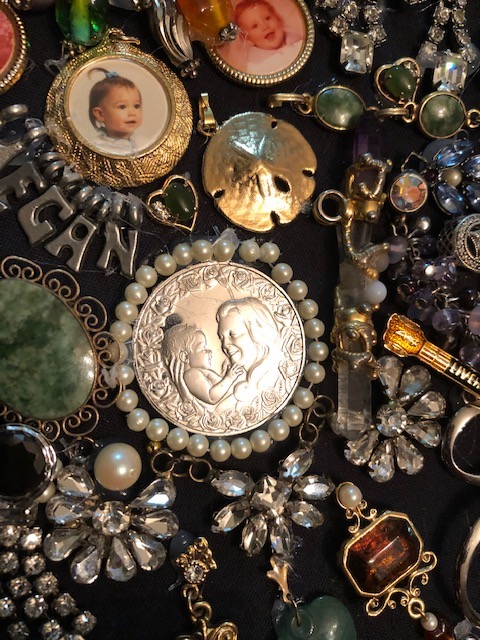 Despite the sadness of viewing items that belonged to loved ones who are now dead, Ms. Finney says the display brings her much joy. "These are items that were hidden in a drawer. They represent my whole life," she says. "Many of those things would have been tossed out in the garbage, but instead my children are fighting over who will get the box when I'm gone."

It is, after all, a family's deeply personal lore, now displayed as three-dimensional art.