Home-based pandemic exercise is often done in the company of cats and dogs. Fitness instructors who teach live classes discuss how they meet the challenge.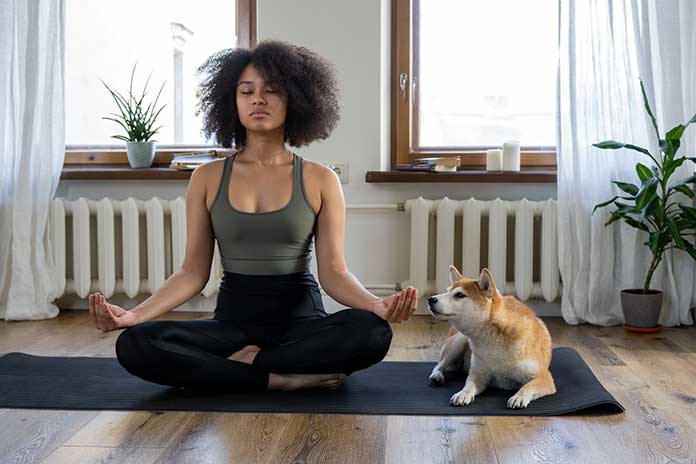 Does your pet pooch join you on your yoga mat for a downward-facing dog? Does your kitty cat move in for a cat-cow stretch? Such is the reality of exercising at home in the company of pets.
Working out with furry friends, however, is a bigger challenge for the instructors who teach fitness classes online from their homes. Online fitness classes have gained in popularity since the closing of commercial gyms at the beginning of the pandemic. Many of us have adapted to getting fit from the comfort of our living rooms. And sometimes, our pets like to join in.
Consider Dublin, for instance. A cross between a standard poodle and a sheepdog, he's so big that his owner, Stacey Lieberman, calls him "my little pony." He's also emotionally attached to Ms. Lieberman; so whenever she teaches a class on Gear Up For Fitness, a West Island-based virtual fitness platform, he usually sprawls nearby.
Ms. Lieberman, an instructor in the West Island fitness community for the past 20 years and a personal trainer who runs her own company—Sessions by Stacey—teaches a weekly Barre class on the Gear Up platform. "At the beginning, Dublin was all over the place," she says. "I'd throw toys for him during classes to get him off me."
The classes are broadcast live, so when pets video-bomb them, the critters cannot be edited out of the footage that is later posted on the site. Ms. Lieberman, who now lives in Florida, says that on days when landscapers or road crews were working outside her townhouse, Dublin would bark at them through the patio doors. And locking him in a separate room was not an option. "He would bark the whole time," she says. "This is a dog that cannot be left alone. Because my husband and I are here 24/7 with the Covid lockdown, the dog is accustomed to being with us."
The solution? "I put a children's show on Netflix to distract him while I teach," she says. "I don't choose a program that has dogs in it because he'll bark at the television."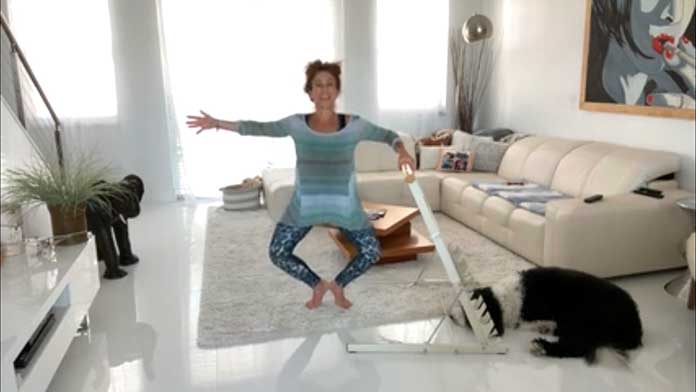 Cats are equally insistent on sharing the limelight. Jennifer Dicaire, who teaches yoga on the Gear Up site, has a 12-year-old dog and a kitten. "On one occasion, the cat jumped over me while I was on my yoga mat and leapt onto the window screen, clinging to it," she says. "Sometimes, the cat would be behind me, playing with my shadow on the wall."
Ms. Dicaire says that when the virtual gym was launched, "I was trying to keep it somewhat professional by keeping my pets out of the room in which I was teaching." However, it proved difficult given the open-plan layout of her house.
Despite attempts to ensure that the virtual gym would approximate the experience of a commercial one, participants began sending messages to the instructors, telling them they enjoyed the presence of pets. "I thought it would be distracting but the members loved the pets," says Ms. Dicaire. "It creates connection."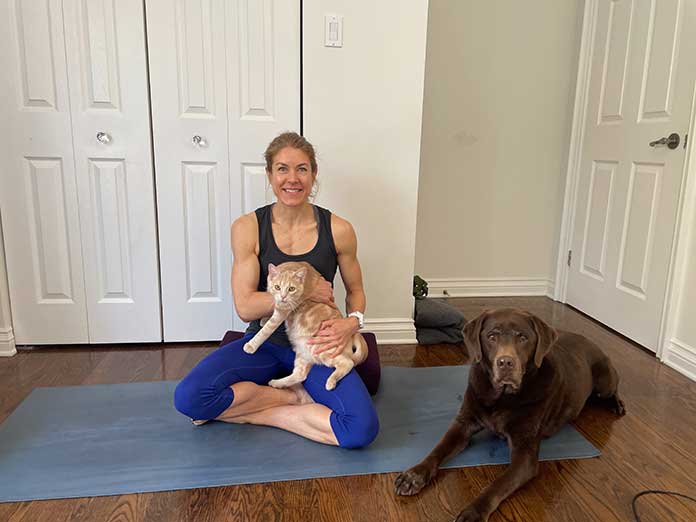 Jennifer Arditi, co-founder of Gear Up For Fitness, says she keeps her dog and two cats out of the basement while she teaches. "I close the door and they do scratch on it but they can't get in," she says, adding that the shift to virtual fitness classes was an adjustment for the instructors. "We wanted it to be professional," she says. "Some people teach in their living rooms, some in their bedrooms."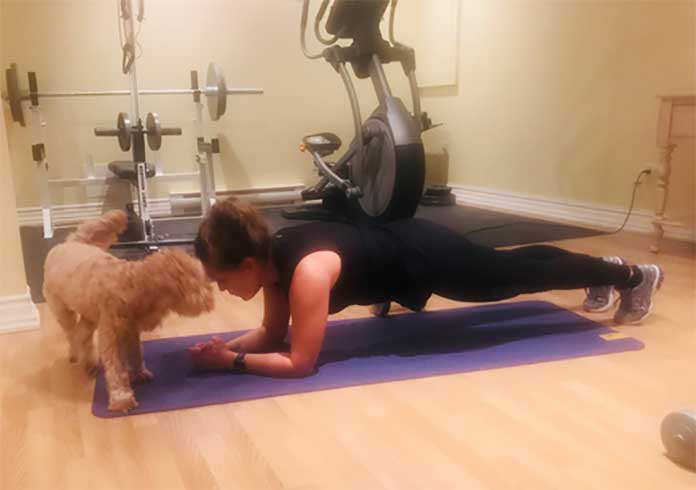 When Elysa Monk teaches her fitness classes on the Gear Up platform, she's often accompanied by one or more of her pets: Steve, a bull mastiff, and any of three rescue cats—Pablo, Oreo and Lucy. "When we started, I would lock my animals in a bedroom," Ms. Monk says. "But Steve would cry the whole time."
On one occasion, a cat that she assumed was in a bedroom ran through the living room where Ms. Monk was teaching. "We were trying to keep our animals out of the videos," she says.
Ms. Monk realized that penning her pets was futile, creating more stress for her than their presence did. So now, they wander in and out of the space to the delight of the gym members who take the classes. "The members told us to keep the animals around," she says. "Sometimes, people ask where Steve is if he's not here. Often, when I pull out my exercise mat, Lucy lies down on it with me."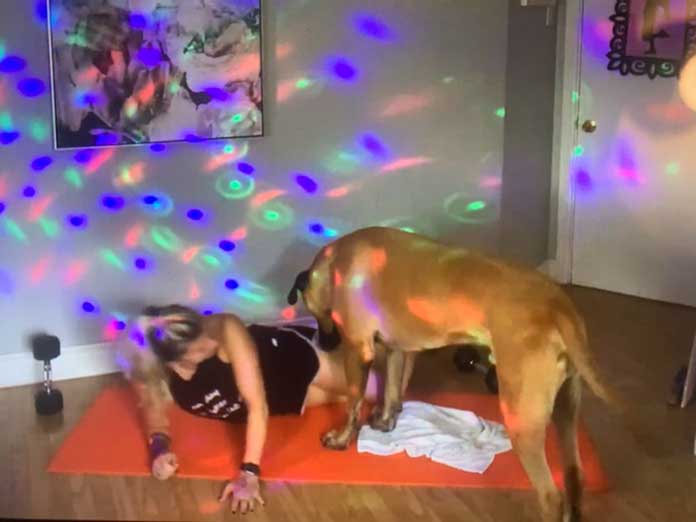 She says the company of her pets brings her peace. It seems that it has the same effect on gym members doing their squats, lunges, crunches and planks in their homes, surrounded by their own furry friends.